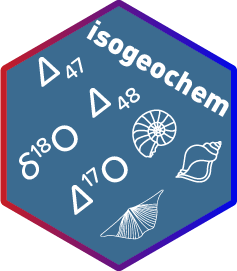 Devils Hole carbonate d18O time series
Source:
R/data.R
devilshole.Rd
A dataset containing the d18O values of the "original" Devils Hole cores.
Format
A data frame with 442 rows and 4 variables:
age

Interpolated uranium-series age of the sample expressed as thousands of years before present (ka).

d18O_VSMOW

Carbonate d18O value expressed on the VSMOW scale (‰).

d18O_error

Standard deviation on the d18O value.

core

Name of the core (DHC2-8, DHC2-3, DH-11).
References
Winograd, I. J., Landwehr, J. M., Coplen, T. B., Sharp, W. D., Riggs, A. C., Ludwig, K. R., & Kolesar, P. T. (2006). Devils Hole, Nevada, d18O record extended to the mid-Holocene. Quaternary Research, 66(2), 202-212. doi:10.1016/j.yqres.2006.06.003