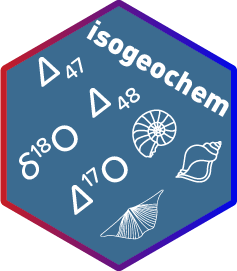 Clumped isotope thermometry
Source:
R/clumped.R
temp_D47.Rd
temp_D47() calculates carbonate growth temperature from D47 value.
Arguments
D47_CDES90

Carbonate D47 values expressed on the CDES90 scale (‰).

D47_error

Error on the D47 value. Optional.

eq

Equation used for the calculation. Options are as in D47().
Value
Returns the carbonate growth temperature (°C). If D47_error
is specified temp_D47() returns a data frame.
Details
The D47 vs temperature equations are listed at D47().
References
References are listed at D47().