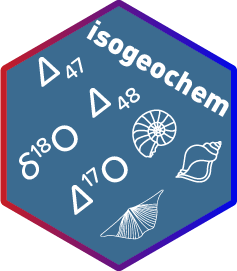 Equilibrium carbonate d18O value
Source:
R/d18O.R
d18O_c.Rd
d18O_c() calculates the equilibrium d18O value of a carbonate grown at a given temperature.
Arguments
temp

Carbonate growth temperature (°C).

d18O_H2O_VSMOW

Water d18O value expressed on the VSMOW scale (‰).

min

Mineralogy. Options are as in a18_c_H2O().

eq

Equation used for the calculations. Options depend on mineralogy and are listed in a18_c_H2O().
References
References are listed in the description of a18_c_H2O().
See also
d18O_H2O() calculates the d18O value of the ambient water from the d18O value of a carbonate and its growth temperature.
Examples
d18O_c

(

33.7

, 

-

13.54

, min 

=

 

"calcite"

, eq 

=

 

"Coplen07"

)




#>

 [1] 14.57797
to_VPDB

(

d18O_c

(

temp 

=

 

12

, d18O_H2O_VSMOW 

=

 

-

6.94

,
               min 

=

 

"aragonite"

, eq 

=

 

"GK86"

)

)




#>

 [1] -5.212518